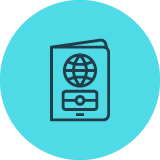 INMIGRATION
DEPARTURES FROM COLOMBIA
We will collect the payments and passports from all passengers at the pre-departure meeting around 10 am the day of the trip. You will then be free for the day and return in the evening for departure.
The maritime agency will do the necessary paperwork (including the Colombian check mig form) and get your passport stamped out of Colombia. They will then give them to the captain who will keep them together during the trip in a dry bag and get you stamped in once you arrive to Panama
Panama authorities sometimes require that passengers show proof of onward travel when entering the country, a copy on your phone is sufficient.
There is NO ENTRANCE TAX for tourists from most countries to stay up to 90 days in the country. Panamanian authorities have in the past made sudden changes to their rules without warning. If there are any changes to the standard rules, we will advise you.
The cost of the trip does not include fees additional to the normal immigration costs.
DEPARTURES FROM PANAMA
The captain will collect all passports at the start of the trip and arrange immigration for your exit from Panama. Your captain will hold onto the passports until your arrival in Colombia.
Panama Immigration requires that each passenger supplies a photocopy of their passport bio page and the page that contains your Panamanian entrance stamp. Please make sure you bring these copies with you to the boat, there are no facilities to make copies once you go aboard.
Your captain will deliver the passports to the maritime agent on arrival in Colombia, they will then complete all the paperwork for your entrance (including your check mig form). The agent will then return the passports to the captain after obtaining the entrance stamp. This process normally takes a few hours, but can be up to 24 hours. If it is going to take a long time, you will be allowed to disembark the boat and check into your hostels and your captain will confirm you when and where you can collect your passport.
Entering Colombia you will not be required to show proof of onward travel.
You are responsible to know your nationalities entry requirements to Colombia and Panama and plan accordingly, eg. South African visa for Colombia.